Fact: the customers you want to reach are
already out there using other products

, in the vast galaxy of SaaS.

What if you could automatically locate them, create a mutually beneficial partnership with the software they're using and enable them to sign up to your app, all with zero cost to you?
Introducing:

Product-Led Partnerships
Partnerships are the most effective way to grow a SaaS in 2021.
With the costs of paid channels spiralling and increased competition in outreach, SEO and content — tapping into a ready-made audience via partners is the more attractive option.
With that said, setting up each partnership takes a lot of work.
From finding and obtaining suitable partners to negotiating commissions and organizing promotions, it all takes you away from what you really want to be doing—building a great product.
Orbital handles all of that and instantly matches you to similarly-sized, non-competing, complementary products with a comparable customer base.
40+
That's the number of SaaS applications an average-sized company uses, with more than 250 being used at enterprise level. It works out to around 8 per employee.
That means there's plenty of room for more, even for your existing customers.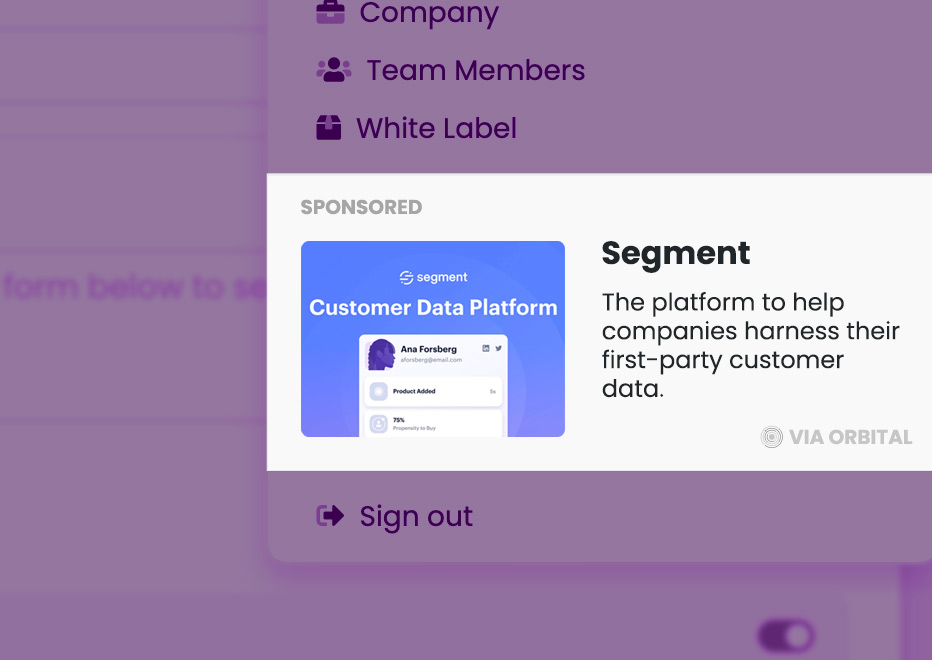 The Orbital ad exchange is:
Easy to set up
List your product on the network, install our code onto your dashboard and you're good to go.
---
Powerful
We only partner you with software that complements yours meaning there's no chance of cannibalizing your sales. Users sent to your product are highly engaged and ready to convert.
---
Non-disruptive
Our native ad units are subtle enough not to distract your existing customers. We believe in reaching out to those with intent, rather than disturbing everyone.
---
Fair
You'll only display promotions when you're receiving new sign ups. It's a one-to-one policy that's fair for all, no matter the size of your business.
---
Free to get started
All leads and sign ups are free, forever. Your first 5 paid customers are also free. Following that we charge a small commission on revenue generated by new customers but much less than the average for traditional partnerships.
Why product-led?
Inspired by the product-led growth movement, we believe that there's no need for lengthy sales processes to acquire users—your product should do the talking.
The traditional way of setting up partnerships is effectively another form of outreach/sales as you're often required to nurture potential partners in the same way you would a lead.
That's why we coined the term Product-Led Partnerships—our platform requires no sales on your part and relies on your product to sell itself directly to the customer from within our network.